Britain
2-pdr [4 cm/39 (1.575")] Mark VIII
Pictures

Updated 22 December 2013

---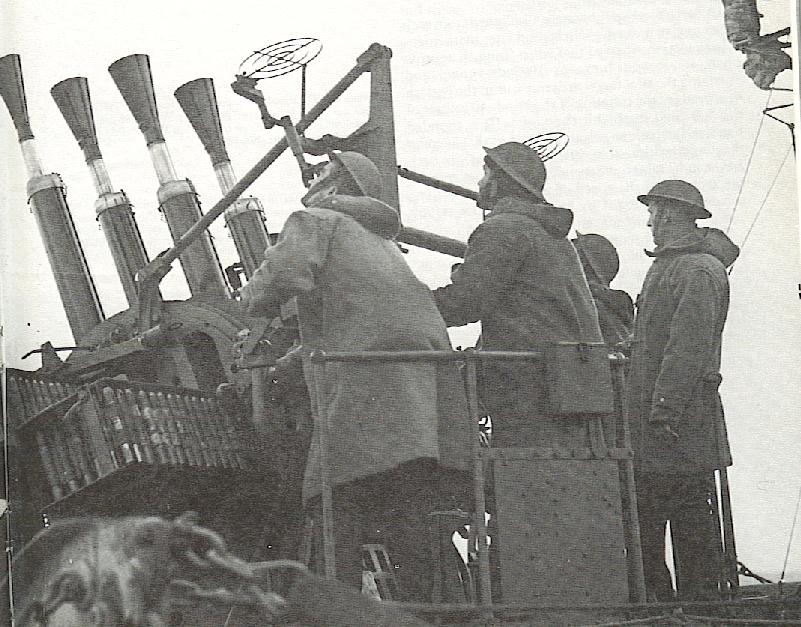 2-pdr. Mark VII Quad Destroyer Mounting
The second crewman from the left is the crank turner
Note the simple ring sights
---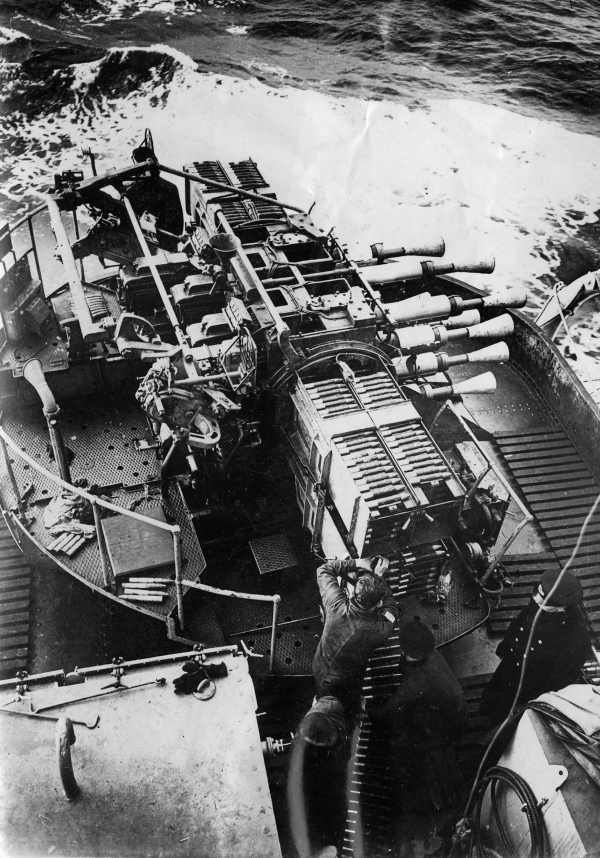 Reloading an octuple 2-pdr on HMAS Shropshire
State Library of Victoria Image H98.105/3247
---
Gunsight on 2-pdr octuple mount
IWM Photograph TR 330
---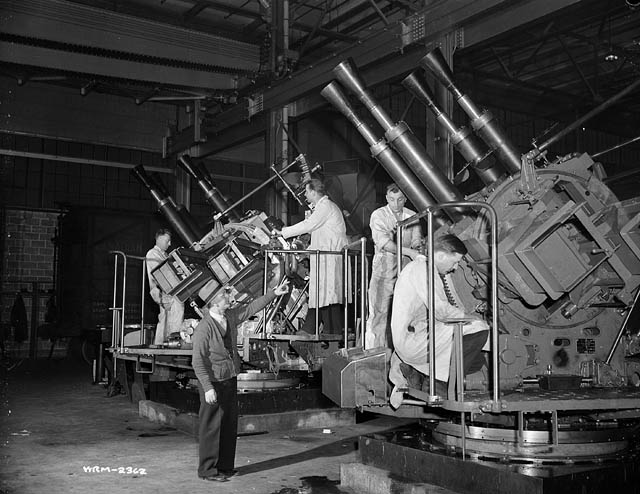 Quad 2-pdr mounts under construction at the Dominion Engineering Works plant in Canada
National Film Board of Canada
Library and Archives Canada Photograph 3196183
---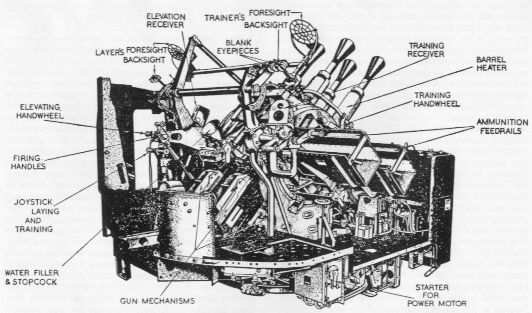 2-pdr. Mark VII Quad Mounting
Sketch from B.R. 224/45
---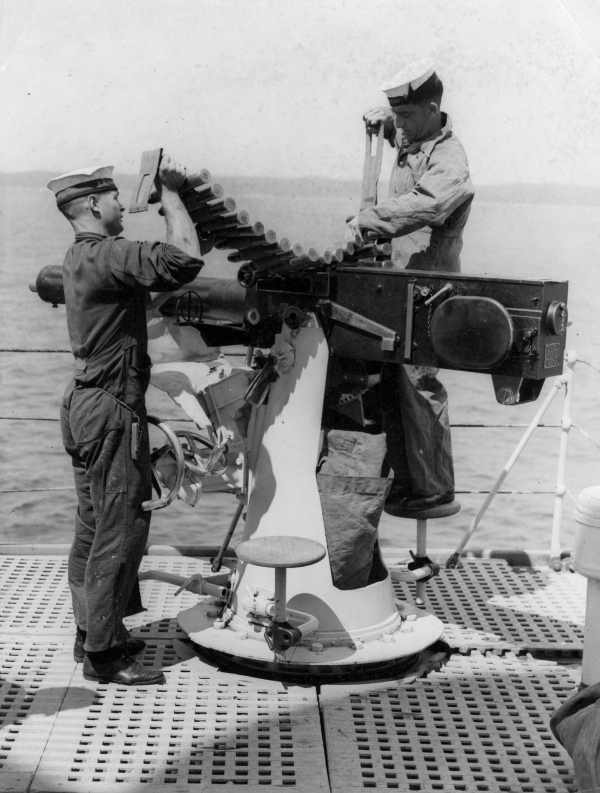 Loading a single 2-pdr ca. 1938
State Library of Victoria Image H98.105/3184

---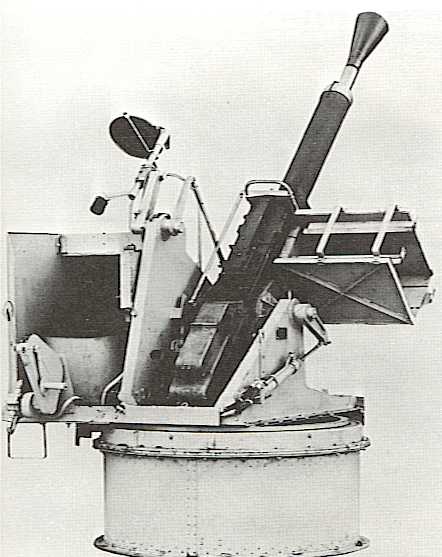 Single Mark VIII gun in Mark XV mounting
This mounting was adapted from the 20 mm Oerlikon Mark V mounting
The Mark XVI mounting was very similar
---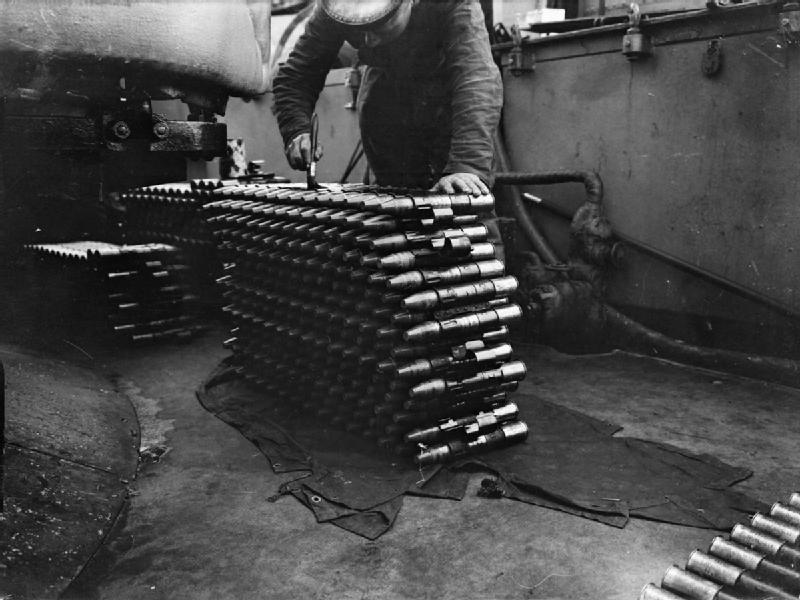 Greasing 2-pdr ammunition aboard HMS Kelvin
IWM Photograph A 2263
---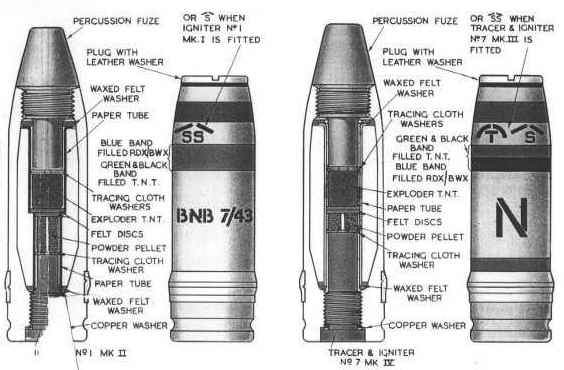 2-pdr HV Rounds
Sketch courtesy of Steve Johnson's Cyberheritage Website
.
---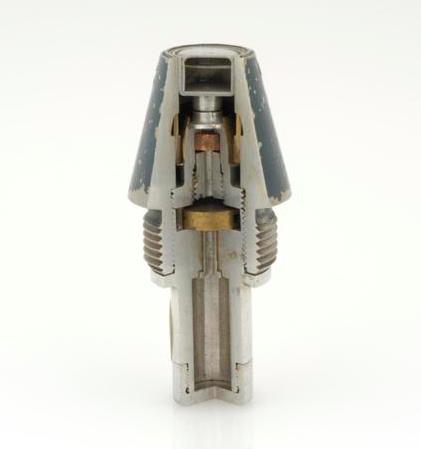 Caption from IWM:
"British No 243 Mark IIN fuze (Sectioned), Second World War period (manufactured 1940?). The No 243 percussion (direct action) fuze was introduced in 1938. It was of the hammer and shear wire type in aluminium alloy for use in Naval 2-pounder anti-aircraft guns. The No 243 ran to three 'Marks' and was declared obsolete in 1943 but re-instated in 1946. It was finally declared obsolete in 1957."
IWM photograph MUN 2753
---
.
Images at The Vickers Photographic Archive

See multi-barrel, gun sight pounder, pounder XVI, Mark VIII guns, VIA, 40mm barrelled four, barrelled naval mk and flash protector

.

---
.

Images at Australian War Memorial

Picture of 2-pdr ammunition in belts
Search via "017310"

.
---
Page History

20 February 2008 - Benchmark
16 January 2010 - Added photograph of Quad Mounts under construction in Canada
06 September 2010 - Modified caption for quadruple mounting
16 June 2012 - Added photographs of HMAS Shropshire and single pom-pom
22 December 2013 - Added photographs of close-up of gunsight, ammunition and fuze