Japan
36 cm/45 (18.9") 5th Year Type
48 cm/45 (18.9") 5th Year Type
Updated 27 May 2012

---
An experimental gun begun shortly after the end of World War I and sometimes confused with the 46 cm/45 (18.1") 5th Year Type. Two prototypes were produced at the Kure Navy Yard, but the first one split during test firing. Work was halted by the Japanese signing of the Washington Naval Limitation Treaty, but resumed starting in November 1935 to test the protection system of what became the Yamato class battleships. The second gun was found by the US occupation forces at the Kamegakubi proving grounds in December 1945. It was apparently destroyed a short time later.
The Japanese referred to this gun only as the "36 cm/45 5th Year Type" in an effort to hide its true size.
Type 91 projectiles were made for this weapon in 1941 and at least one was found in the magazines at the Kamegakubi proving grounds after the war. No test data for these projectiles was found, which may mean that the program was cancelled at the start of the Pacific War.
Few details are available on this weapon, but it was wire wound only near the breech and had a slim chase, with a diameter at the muzzle of about 29 inches (73.7 cm). The cradle and slide were apparently developed from the British 15"/42 (38.1 cm) Mark I.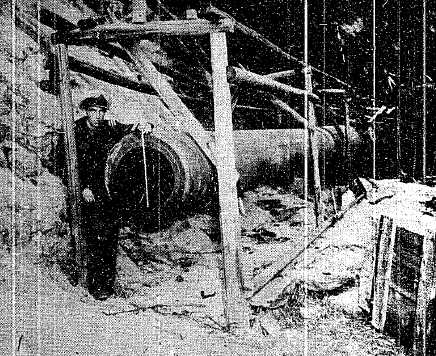 48 cm/45 (18.9") 5th Year Type as found in December 1945 at Kamegakubi Proving Grounds
Photograph from "US Naval Technical Mission to Japan report O-45 (N)"

.
---
Gun Characteristics

.
Designation
Official Designation - 36 cm/45 (18.9") 5th Year Type (Model 1916)
Actual Size - 48 cm/45 (18.9") 5th Year Type (Model 1916)
Ship Class Used On
Experimental
Date Of Design
about 1916
Date In Service
1920 (as experimental gun)
Gun Weight
N/A
Gun Length oa
N/A
Bore Length
about 850 in (21.600 m)
Rifling Length
N/A
Grooves
N/A
Lands
N/A
Twist
N/A
Chamber Volume
N/A
Rate Of Fire
N/A
Powder Charge
N/A
.
---
Ammunition

.
Type
Bag
Projectile Types and Weights
Type 91 APC - about 3,800 to 3,900 lbs. (1,724 to 1,770 kg)
Bursting Charge
N/A
Projectile Length
81 in (206 cm)
Propellant Charge
N/A
Muzzle Velocity
N/A
Working Pressure
N/A
Approximate Barrel Life
N/A
Ammunition stowage per gun
N/A
Note: APC Type 91 projectiles were developed for this weapon during the 1930s. These differed from the normal design by having only one driving band.
.
---
Data from
"Naval Weapons of World War Two" by John Campbell
"Japanese Cruisers of the Pacific War" by Eric Lacroix and Linton Wells II
---
US Naval Technical Mission to Japan report O-19: Japanese Projectiles General Types
US Naval Technical Mission to Japan report O-45 (N): Japanese 18" Gun Mounts
---
Page History

23 December 2006 - Benchmark
29 November 2009 - Added information about Type 91 projectile
27 May 2012 - Updated to latest template