Britain
30 mm/75 GCM Series
30 mm/75 LS-30B and DS30
Updated 11 February 2012

---
The GCM series were developed as a joint project by Oerlikon and BMARC (British Manufacture and Research Company). Oerlikon supplied the twin 30 mm KCB cannons while BMARC designed and built the gyro-stabilzed and powered mountings.
The Laurence Scott LS-30B uses a single 30 mm KCB cannon on a simpler stabilized mounting. This weapon replaced the 40 mm Bofors Mark 7 and Mark 9 mountings on various frigates and minehunters. This weapon is currently being produced by MSI-Defence Systems LTD as the DS30. This mounting has a modular yoke which allows it to be easily configured to be used with other weapons, such as the Mauser 30 mm 30F or with the 25 mm Bushmaster or 30 mm Bushmaster guns. These mountings are available in locally controlled (LOCSIG), remotely controlled (REMSIG) or autonomously controlled (AUTSIG) versions. As of 2003, over 70 mountings had been purchased by the Royal Navy and about twenty by other navies. This weapon system is also produced under license in Australia by ADI Limited for use on the RAN Huon class Minehunters.
The 30 mm KCB cannon is also used on the Emerlec-30.
30 mm/75 GCM-AO3-1
Picture copyrighted by Oerlikon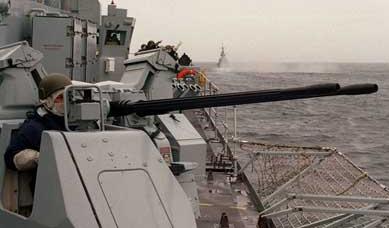 30 mm/75 GCM-AO3-2
Royal Navy Photograph

.
---
Gun Characteristics

.
Designation
Guns: Oerlikon 30 mm/75 KCB
Ship Class Used On
GCM
British: Type 22 frigates and Amphibious Assault Ships

Brunei: Fast Patrol Craft

LSB-30/DS30
British: Smaller warships such as minehunters
Australia: Huon class minehunters

Exported to several countries

Date Of Design
See Mounting Notes, below
Date In Service
See Mounting Notes, below
Gun Weight
N/A
Gun Length oa
N/A
Bore Length
about 88.6 in (2.250 m)
Rifling Length
N/A
Grooves
N/A
Lands
N/A
Twist
N/A
Chamber Volume
N/A
Rate Of Fire
Cyclic: 650 rounds per minute
.
---
Ammunition

.
Type
Fixed
Weight of Complete Round
N/A
Projectile Types and Weights
HE - 0.93 lbs. (0.420 kg)
APDS - 0.66 lbs. (0.300 kg)
Bursting Charge
N/A
Projectile Length
N/A
Propellant Charge
N/A
Muzzle Velocity
HE: 3,543 fps (1,080 mps)
APDS: 3,854 fps (1,175 mps)
Working Pressure
N/A
Approximate Barrel Life
about 5,000 rounds
Ammunition stowage per gun
(on mount)
GCM-AO3-1: 165 to 250 rounds
GCM-AO3-2: 250 rounds
GCM-AO3-3: 320 rounds
LSB-30/DS30: 160 rounds
.
---
Range

.
| | |
| --- | --- |
| Elevation | With 0.93 lbs. (0.420 kg) HE Shell |
| Effective range - anti-surface | 10,900 yards (10,000 m) |
| Effective range - anti-air | 3,000 yards (2,750 m) |
.
---
Mount / Turret Data

.
Designation
Twin Mountings

GCM-AO3-1 (Local / Remote control)
GCM-AO3-2 (Local / Remote control)
GCM-AO3-3 (Remote control)

Single Mounting
LS-30B or DS30 Mark 1 and Mark 2

Weight
GCM-AO3-1 - 4,410 lbs. (2,000 kg)
GCM-AO3-2 - 4,740 lbs. (2,150 kg)
GCM-AO3-3 - 4,190 lbs. (2,050 kg)
LS-30B or DS30 - 2,645 lbs. (1,200 kg) with ammunition
Elevation
GCM-AO3: -15 / +80 degrees
LSB-30B or DS30: -20 / +65 degrees
Elevation Rate
GCM-AO3: 50 degrees per second
LSB-30B or DS30: 55 degrees per second
Train
360 degrees
Train Rate
GCM-AO3: 75 degrees per second
LSB-30B or DS30: 55 degrees per second
Gun recoil
N/A
Notes:

1) The GCM-AO1 was first introduced in 1968. Eight of the AO2 version were purchased by Britain as an emergency close-in defense gun during the Falklands War. The current version in service in the RN is the AO3 which is available in both Local / Remote Control and Remote Control Only versions.

2) The AO3-2 may be distinguished from the AO3-1 shown in the photograph above by the lack of a windshield on the operators cabin. The AO3-2 is the most common version in service in the British Royal Navy.

3) The LS-30B was first ordered in 1984 to arm frigates, with twenty-five units being purchased at that time.

4) MSI Defence Systems will use their DS30 Mark 2 mounting for Bushmaster II guns on the Type 23 Frigates.
.
---
Data from
"The Naval Institute Guide to World Naval Weapon Systems 1991/92" by Norman Friedman
"Rapid Fire" by Anthony G. Williams
Royal Navy Press Releases

---
Page History

17 October 2007 - Benchmark
12 February 2012 - Updated to latest template