Germany
15 cm/45 (5.9") Tbts KL/45
15 cm/45 (5.9") Ubts + Tbts KL/45
15 cm/45 (5.9") Ubts + Tbts Flak L/45
Updated 16 December 2013
---
A lighter weight gun used near the end of World War I on large destroyers and "U-boat Kreuzers." The difference between the models was in the mountings, the guns themselves were identical. A Flak version of the latter gun was produced but details are lacking.
Following the end of World War I, ships armed with these guns were transferred to the Allies as war reparations, including the destroyer S113 which was recommissioned in the French Navy as Amiral Sénès. The easy and reliable operation of the semi-automatic gun breeches aboard this ship impressed French ordnance officers who copied the design for their 138.6 mm/40 (5.46") Model 1927. The French later reused the German guns to arm two merchant cruisers during World War II.
During World War II the Germans used these guns to arm merchant ship raiders, supply ships and as coastal artillery.
All German 15 cm guns had an actual bore diameter of 14.91 cm (5.87 in).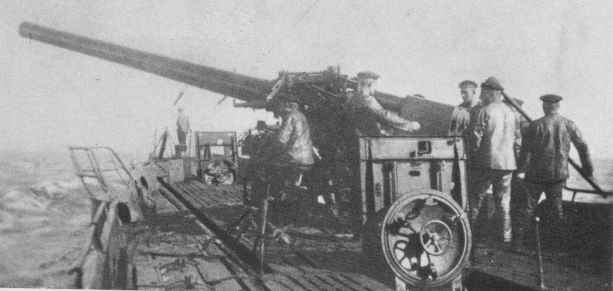 15 cm Ubts + Tbts KL/45 on U117 about 1918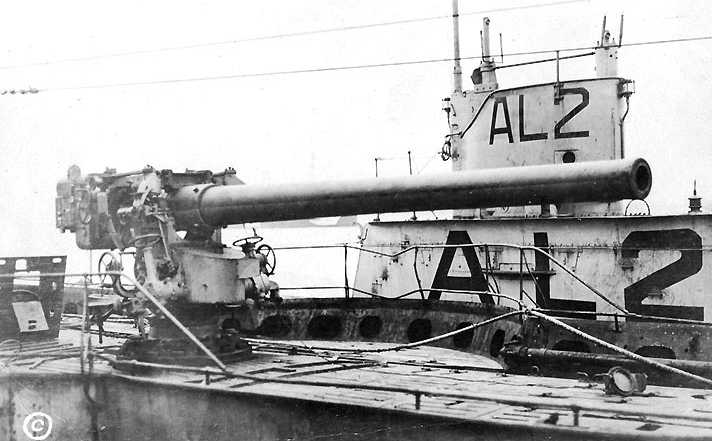 15 cm Ubts + Tbts KL/45 on U124 about 1918
In the background is USS L-2 (S-41)
U.S. Naval Historical Center Photograph # NH 92826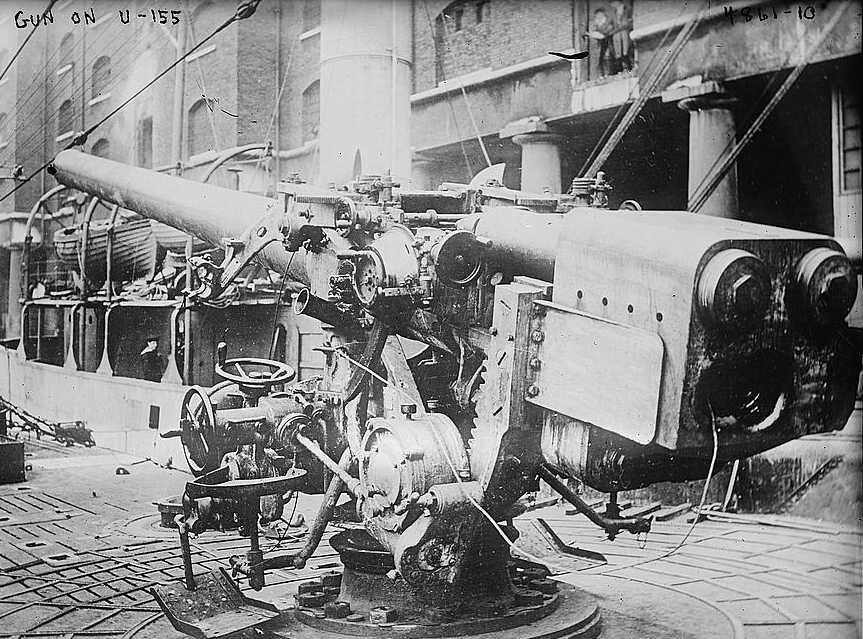 15 cm Ubts + Tbts KL/45 on U155 about 1918
Bain News Service Photograph
Library of Congress Photograph ID LC-DIG-ggbain-28410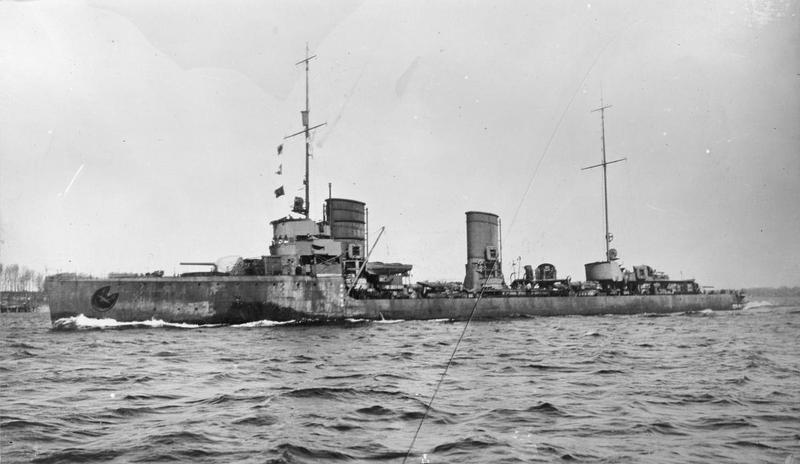 Destroyer V116
Post-war, this became the Italian Premuda
IWM photograph Q 50985

.
---
Gun Characteristics

.
Designation
15 cm/45 (5.9") Tbts KL/45
15 cm/45 (5.9") Ubts + Tbts KL/45
15 cm/45 (5.9") Ubts + Tbts Flak L/45
Ship Class Used On
German - 1918
S113, V116, G119 and B122 Destroyer classes
U117 (Project 45), U127 (Project 42), U139 (Project 46) and U213 (Project 42A) U-boat classes

French - 1939
Barfleur and Charles Plumier (armed merchant cruisers)

Date Of Design
about 1917
Date In Service
1918
Gun Weight
8,800 lbs. (3,990 kg) including breech
Gun Length oa
262.8 in (6.675 m)
Bore Length
247.7 in (6.291 m)
Rifling Length
N/A
Grooves
(48) 0.055 in D x 0.210 W (1.40 mm D x 5.3 mm W)
Lands
0.176 in (4.47 mm)
Twist
Uniform RH 1 in 24.9
Chamber Volume
858 in3 (14.06 dm3)
Rate Of Fire
4 - 5 rounds per minute
.
---
Ammunition

.
Type
Separate
Projectile Types and Weights
HE L/4,1 C/09 base fuze - 99.8 lbs. (45.3 kg)
Common L/4,1 nose fuze - 99.8 lbs. (45.3 kg)
Bursting Charge
N/A
Projectile Length
N/A
Propellant Charge
World War I: N/A

World War II: 18.34 lbs. (8.32 kg) RPC/38 (6.5/2.8)

Muzzle Velocity
2,231 fps (680 mps)
Working Pressure
N/A
Approximate Barrel Life
N/A
Ammunition stowage per gun
S113: 90 rounds
U-Boat cruisers: 500 rounds
.
---
Range

.
Elevation
With 99.8 lbs. (45.3 kg) HE Shell
World War I
Range @ 30 degrees
15,860 yards (14,500 m)
World War II
Range @ 30 degrees
17,390 yards (15,900 m)
.
---
Mount / Turret Data

.
Designation
Single Pedestal Mounts
Destroyers (4): N/A (possibly Tbts MP LC/16)
U-Boats (1): N/A (possibly Ubts MP LC/16)
Weight
18,186 lbs. (8,525 kg)
Elevation
about -5 / +30 degrees
Elevation Rate
Manual operation, only
Train
about +150 / -150 degrees
Train Rate
Manual operation, only
Gun recoil
N/A
.
---
Data from
"Naval Weapons of World War Two" by John Campbell
"Naval Weapons of World War One" by Norman Friedman
"Conway's All the World's Fighting Ships: 1906-1922" by Randal Gray and Robert Gardiner (Editor)
"German Warships 1815-1945" by Erich Gröner
"Die Geschichte der deutschen Schiffsartillerie" by Paul Schmalenbach
"German Warships of World War I" by John C. Taylor
"German Cruisers of World War Two", "Cruisers of World War Two" and "German Capital Ships of World War Two" all by M.J. Whitley
and
Tony DiGiulian's personal data files
---
Special Help from Peter Lienau
---
Page History

28 December 2008 - Benchmark
06 February 2011 - Added Flak version
25 November 2012 - Added details on guns, ammunition and mountings
16 December 2013 - Redid photograph of V116