Sweden
Bofors 40 mm/60 (1.57") Model 1936
---
United States of America
40 mm/56 (1.57") Mark 1, Mark 2 and Mark 3
---
Britain
40 mm/56.3 (1.57") QF Marks I, III, IV, VIII, IX, X, XI, NI and NI/I
---
Germany
4 cm/56 (1.57") Flak 28
---
Japan
4 cm/60 (1.57") Type 5
---
Pictures

Updated 28 December 2013

---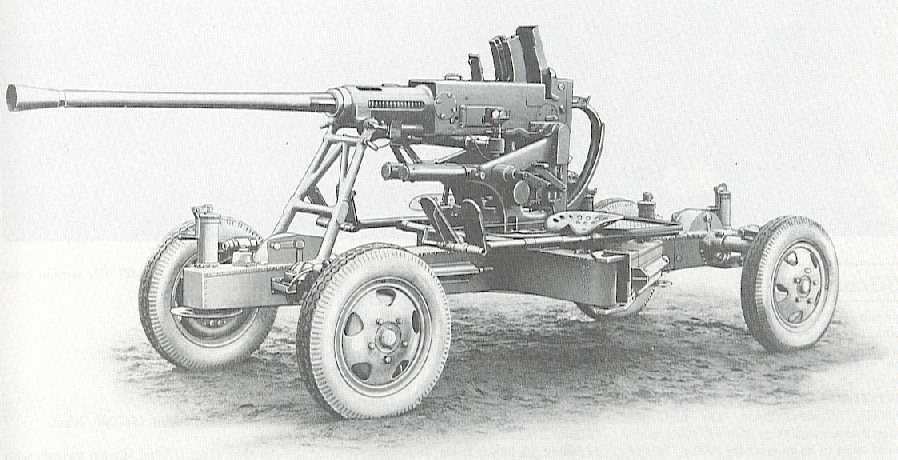 Prototype Bofors gun made for the Swedish Navy ca. 1932
Wheeled carriage was for transporting the weapon between the range and the factory
Photograph copyrighted by Bofors
---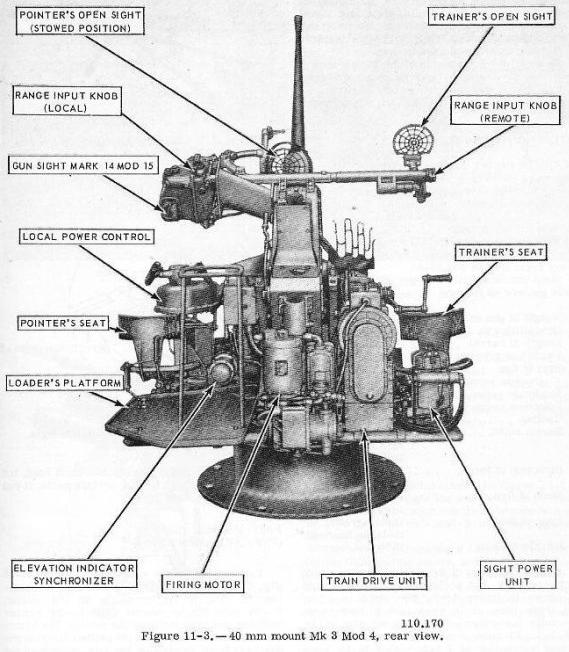 USN Air-cooled 40 mm single mounting
Sketch courtesy of Robert Stoner of Warboats.org
---
Side view of 40 mm Mark 1 gun in Mark 3 mounting
Click on this picture for a larger image
---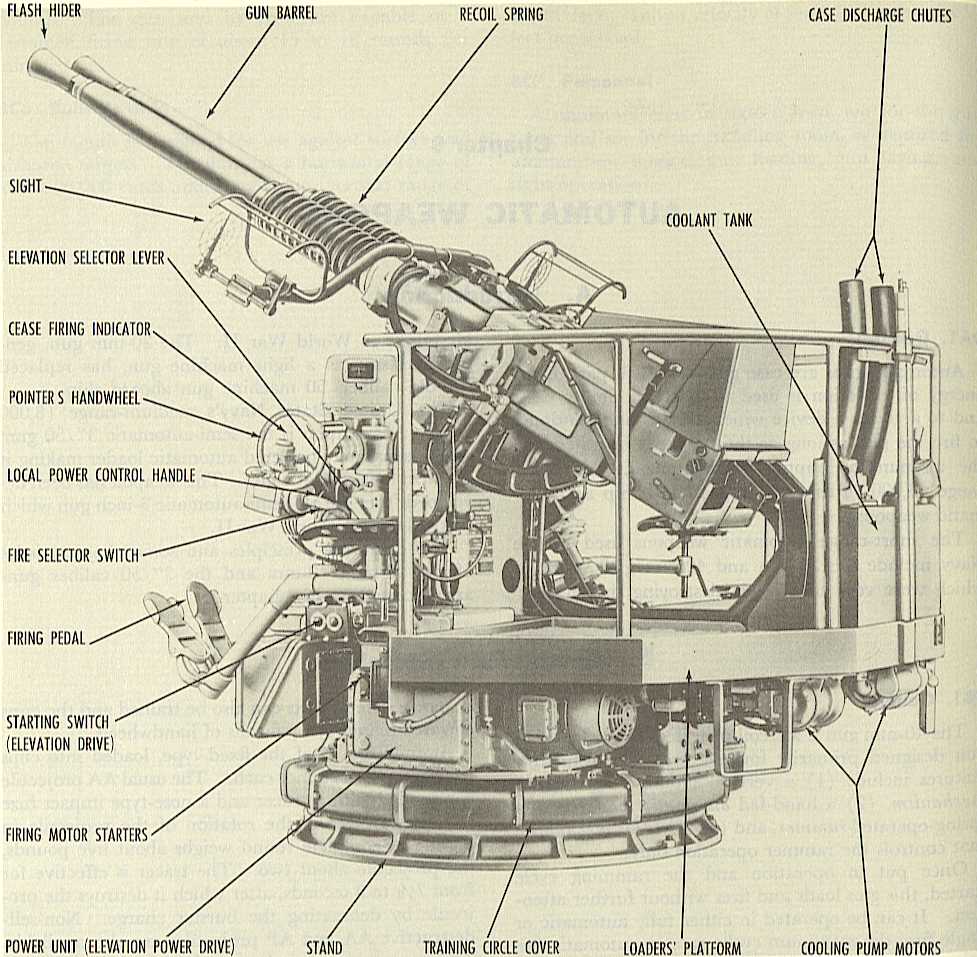 USN Twin 40 mm Bofors Mount
Note the case discharge chutes at the right and the ejector chutes at the rear of the guns. These provided a safe path for expended cartridges off the mount at any angle of elevation.
Click on this picture for a larger image
---
USN Quad 40 mm Bofors Mount
Click on this picture for a larger image

---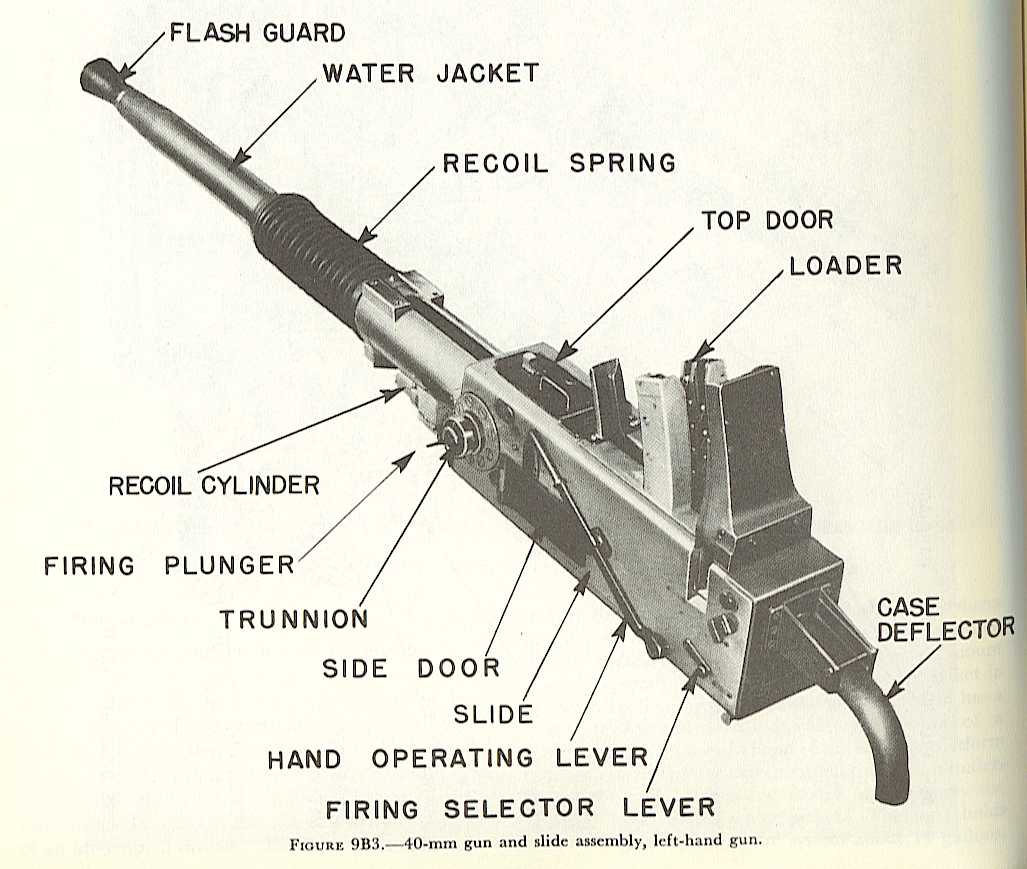 USN 40 mm Mark 1 gun assembly
Click on this picture for a larger image
---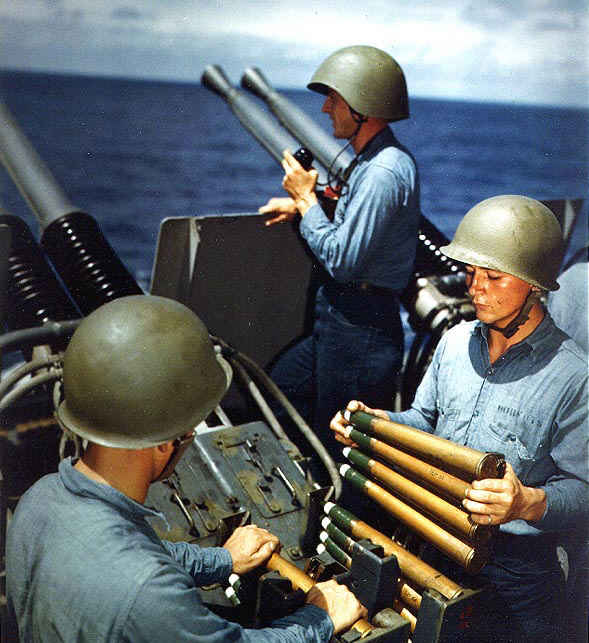 Crewmen feeding four-round HE-T/SD ammunition clips on USS Alaska CB-1 in 1945
U.S. Historical Center Photograph K-3740
---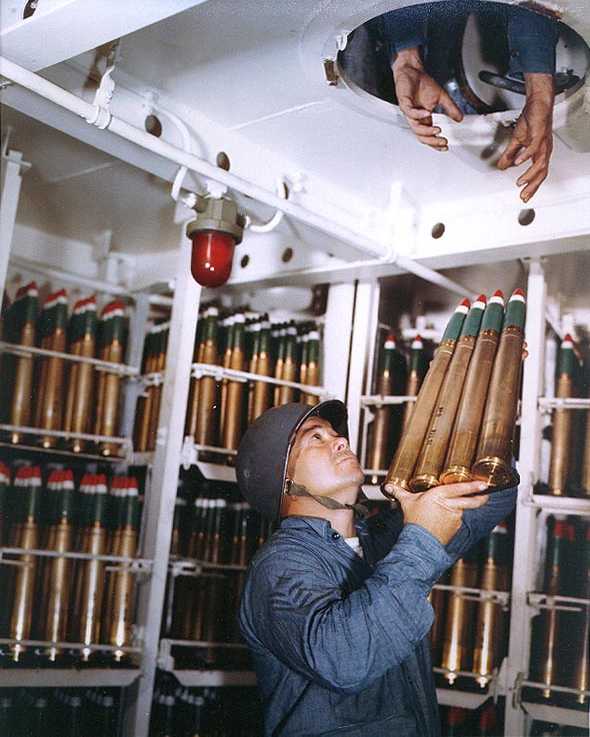 Crewmen passing 40 mm HE-I-T/SD rounds on USS Alaska CB-1 in 1945
The clip that holds the rounds together can just be seen at the base of the cartridges
The rounds with green tips directly behind the crewman are HE-T/SD ammunition
U.S. Historical Center Photograph 80-G-K-3733

---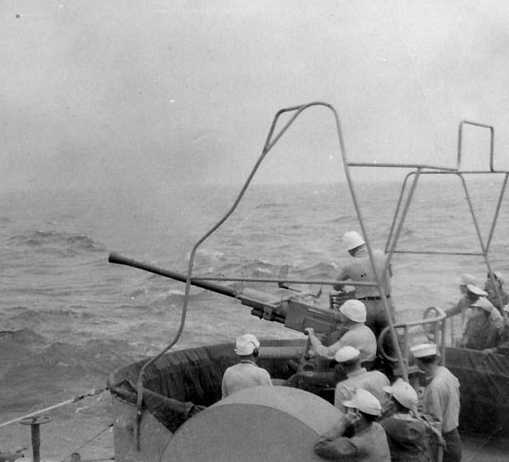 40 mm Single Mount on USS Sausalito PF-4
Note the safety rails, a common sight on ships with these manually operated mountings
U.S. Historical Center Photograph # NH 103339
---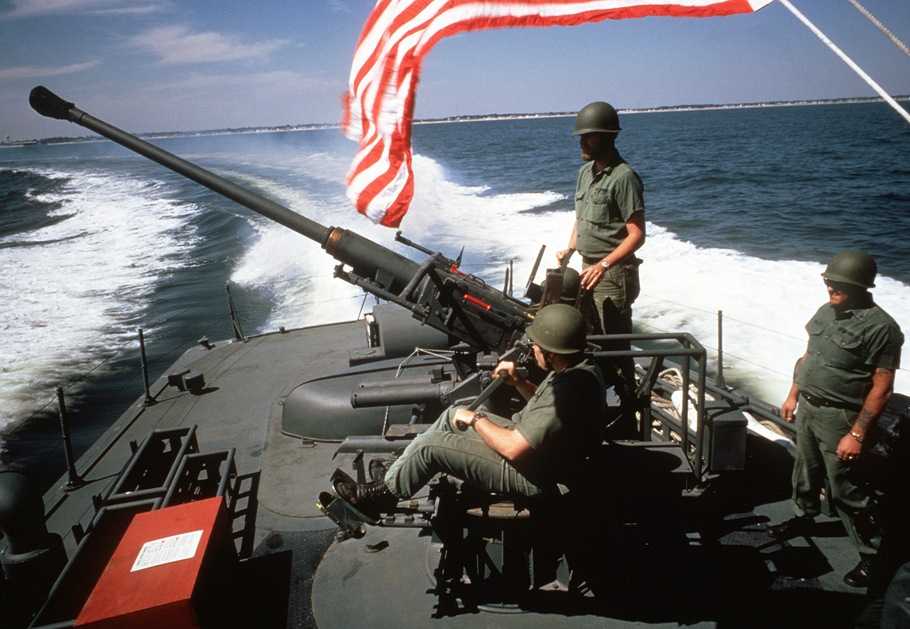 40 mm Mark 1 air-cooled gun in Mark 3 mounting on unidentified PTF in May 1973
U.S. Navy Photograph No. DN-ST-88-07400

---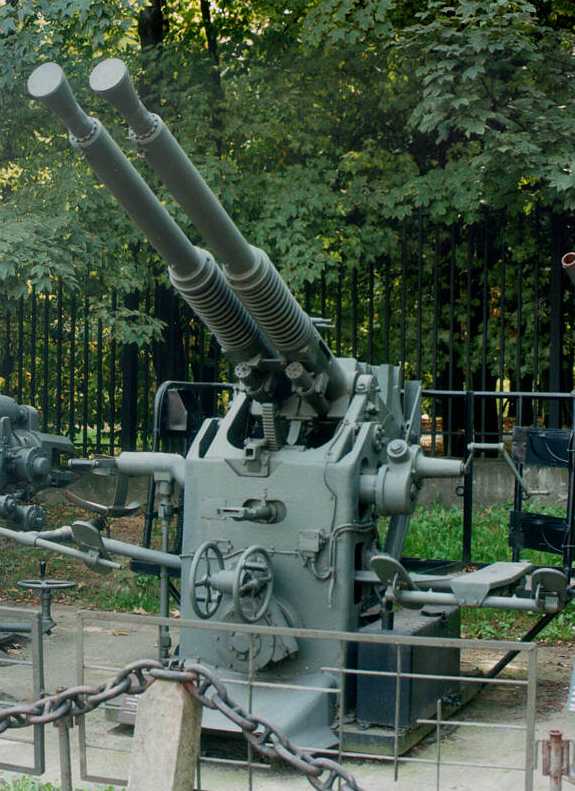 Twin 40 mm from the destroyer ORP Blyskawica
This weapon is now at the Polish Army Museum, Warsaw
Photograph copyrighted by Michal Kopacz
---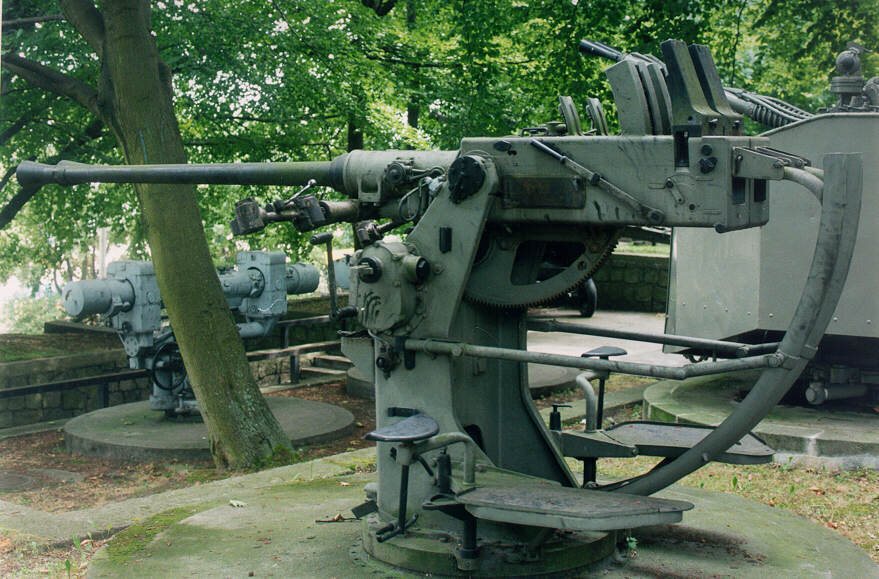 Bofors air-cooled twin mounting used on Polish submarine
This weapon is now at the Polish Army Museum, Warsaw
Photograph copyrighted by Michal Kopacz

---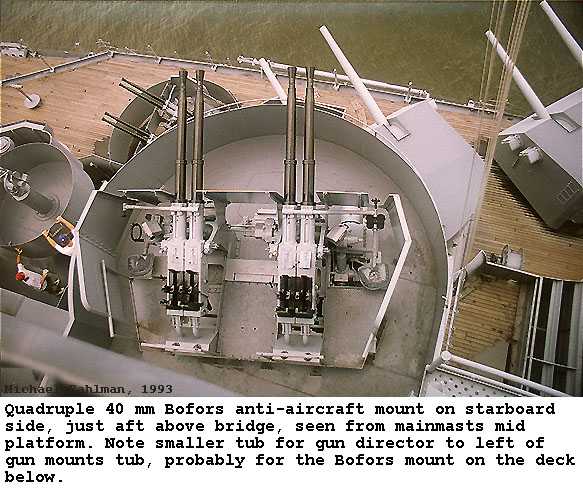 Quad 40 mmm Bofors mount on USS Alabama BB-60
Photograph copyrighted by NavWeaps and Michael Fahlman
---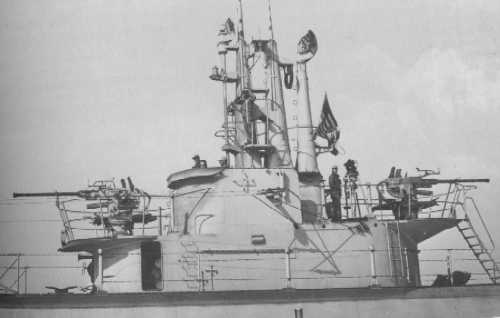 Wet-mount 40 mm Bofors on USS Mero SS-378
USN Photograph

---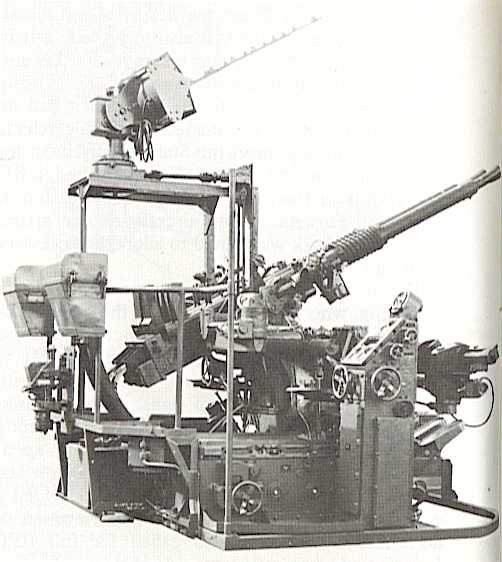 British Hazemeyer 40 mm Mark IV
Note the Type 282 radar with its drive gearing, the analog computer and the rangefinder on the far right. The boxes on the rear are for ready ammunition. The Mark IV* was similar but eliminated the rangefinder in favor of an additional counterweight and used a larger, stronger platform to mount the radar antenna.
---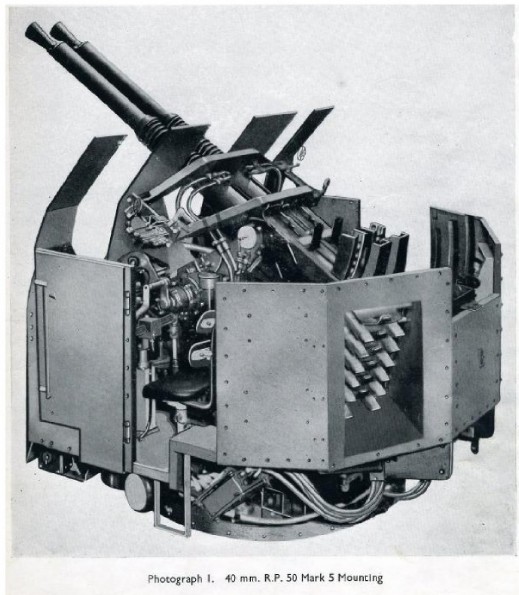 British Mark V Mounting
---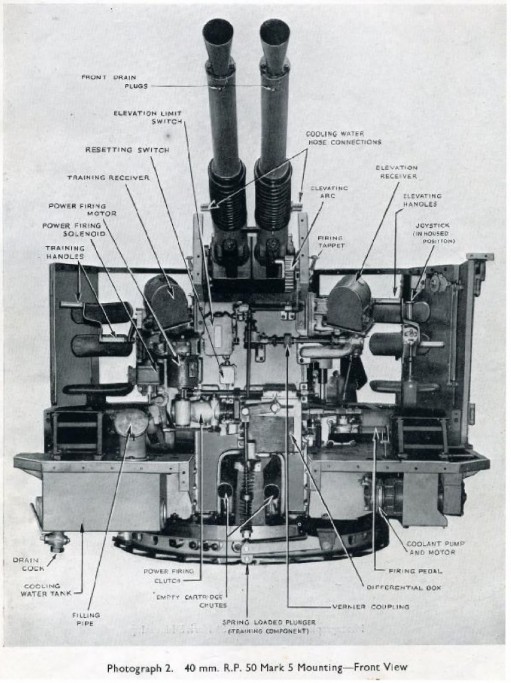 British Mark V Mounting with front shield removed
---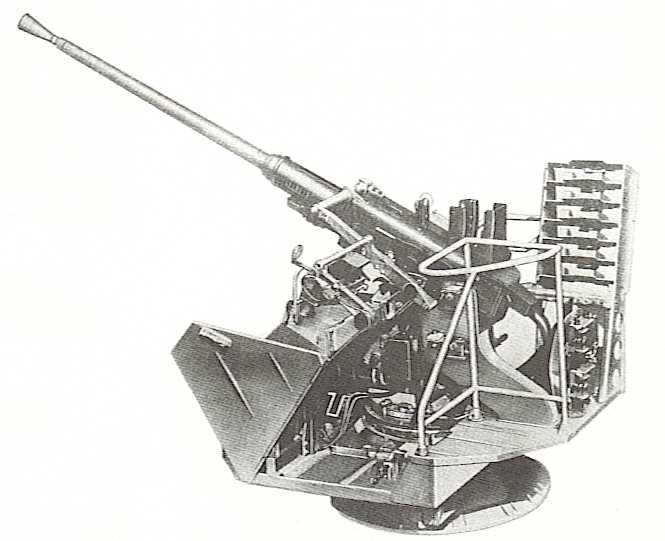 British Mark VII Single Mounting
This mounting was in use well into the 1970s
---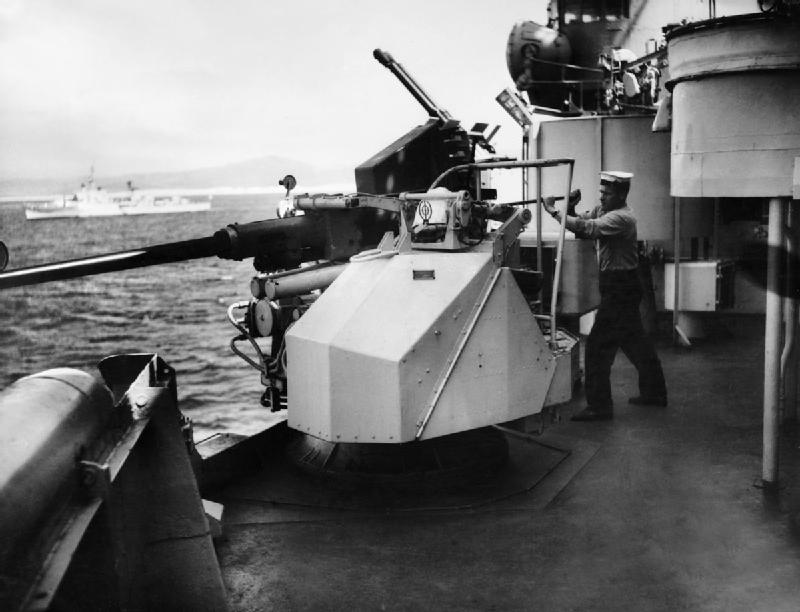 British 40 mm Mark VII Mounting on HMS Sheffield in 1958
IWM photograph A 34015

---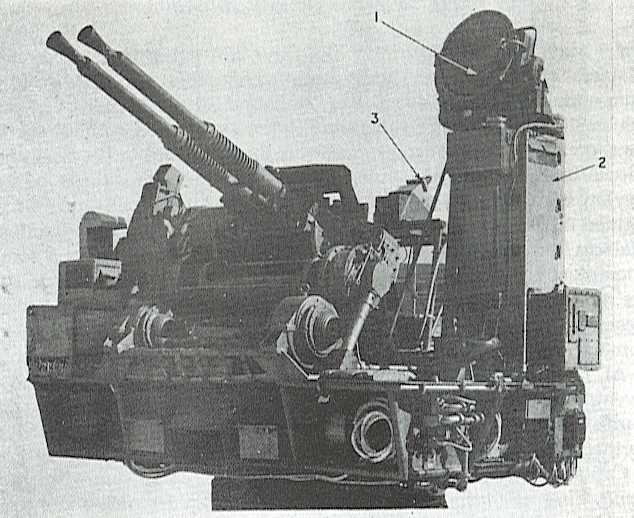 British twin 40 mm STAAG Mounting (minus shield)
1. Type 262 Radar (3 cm)
2. Radar Operator's Panel
3. Control Officer's remote radar display
Photograph from "Radar Manual, 1945"
---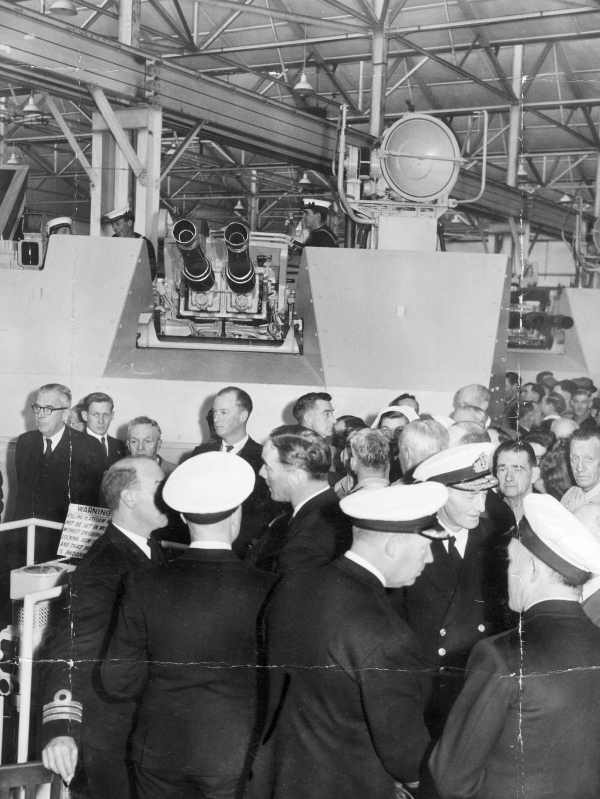 40 mm STAAG mounting being shown to Australian Naval Officers and munitions workmen
State Library of Victoria Image H98.105/3203

---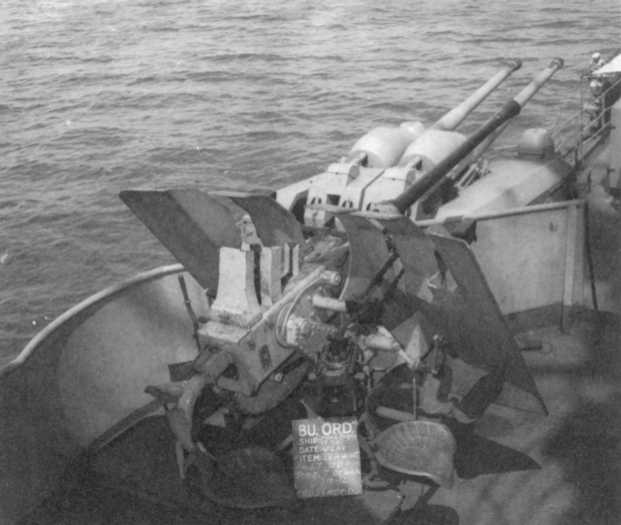 German 4 cm/56 Flak 28
This picture was taken on the Prinz Eugen in Philadelphia, PA, USA
Note the 10.5 cm/65 SK C/33 in the background
USN Photograph

---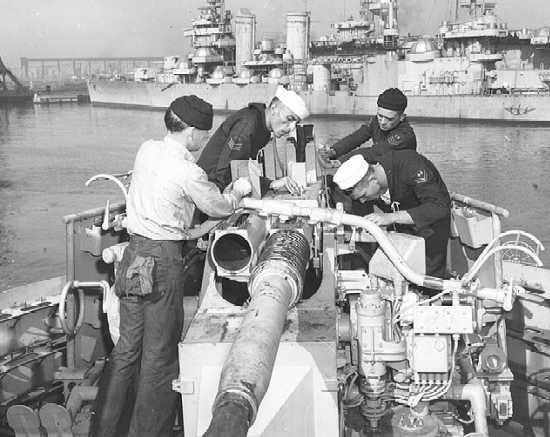 Twin 40 mm Bofors on Brazilian Barroso (ex-USS Philadelphia CL-41) in March 1951
USS Tuscaloosa CA-37 in background
U.S. Historical Center Photograph # 80-G-708174

---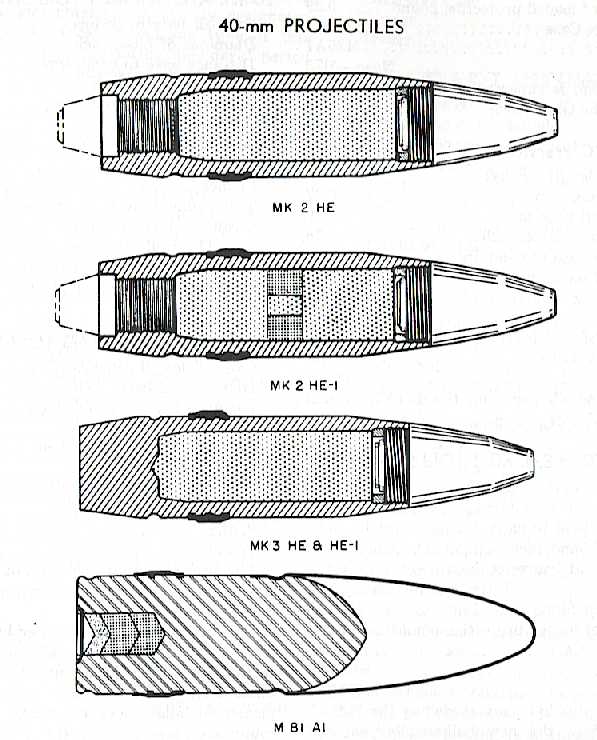 USN 40 mm projectiles of World War II
Note that the AP M81 does not have a boattail and that the windshield apparently forms the bourrelet
Diagonal Stripes represents the body and body walls, small dots represent the tracer elements, dense dots represent the incendiary elements, other dots represent explosive (HE) burster elements. Explosive, incendiary and tracer elements were loaded in increments, as shown in the above sketches.
---

Cutaway view of USN M81A1 AP Round
---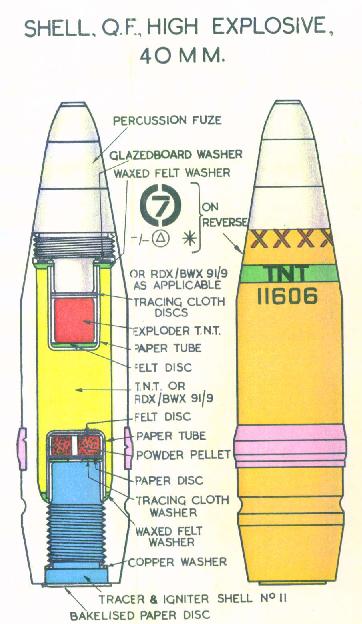 British 40 mm HE Projectile
Image courtesy of Steve Johnson of Cyberheritage
---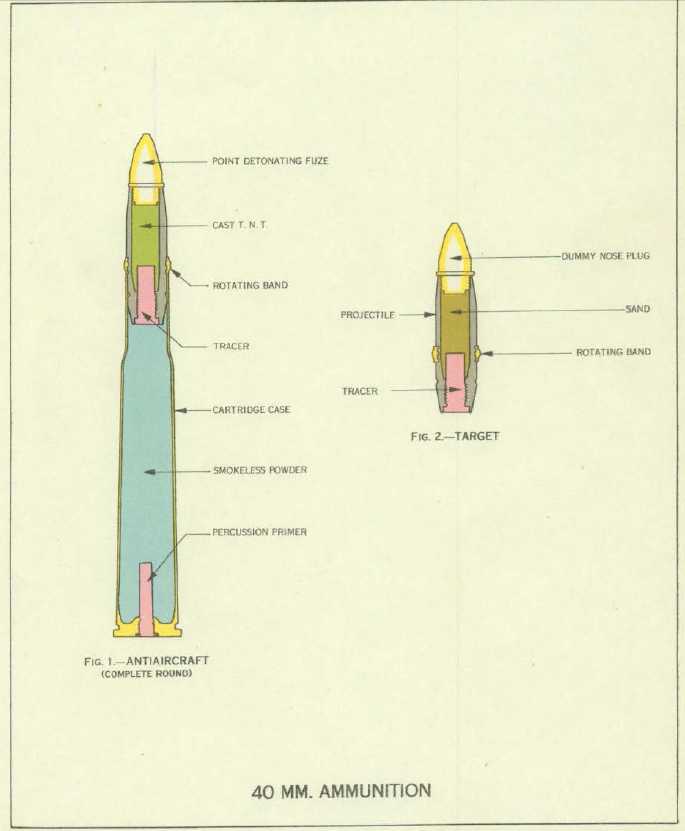 Cutaway sketches of 40 mm ammunition
---
.
Images at The Vickers Photographic Archive

See Bofors

.
---

Page History

12 November 2008 - Benchmark
11 June 2010 - Added cutaway picture of complete M81A1 AP round
14 January 2011 - Added cutaway sketch
06 April 2011 - Added pictures of British Mark V twin mounting
28 January 2012 - Added picture of Polish twin mounting
16 June 2012 - Added picture of STAAG in Australia
28 December 2013 - Added picture of HMS Sheffield